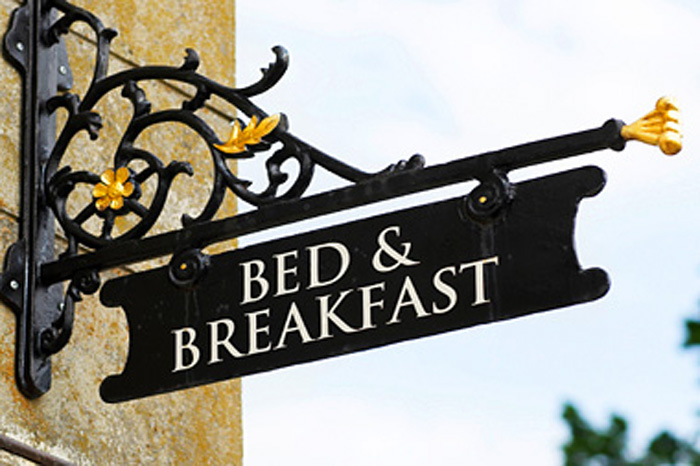 The article below was published on houzz.com
By 

Vanessa Brunner
Should You Open a Bed-and-Breakfast?
Before you commit to innkeeper dreams in your home or an existing B and B, here's what you need to know
Owning a bed-and-breakfast might not be as romantic as you're envisioning. But don't worry, it doesn't mean it can't be fun — it just means it's a lot of work. If you're thinking about turning your home or another property into a bed-and-breakfast, start by asking yourself a simple question: How serious are you? While hosting wine and cheese nights and sleepovers in your home might sound fun at first, innkeeping is a never-ending job — you have to be on 24/7.
Here you'll learn from the pros about what owning a bed-and-breakfast takes. Could it be the right path for you?
Get ready to work. As with any new endeavor, the amount of effort you put into your bed-and-breakfast will have a huge effect on the payoff. Before you jump in head first, get romantic ideas of innkeeping out of your head. "Don't underestimate the labor involved in choosing such a profession," says Jay Karen, president and CEO of the Professional Association of Innkeepers International. Unlike a hotel or a homestay, bed-and-breakfasts come with the expectation that the innkeeper will be social with the guests. Is that something you're up for?
Take workshops, shadow a current innkeeper and do your research before investing any money. Does owning your own business excite you? Are you worried about hard work? Can you be dedicated around the clock? Are you OK with a reverse work schedule (nights, weekends, holidays)?
Have a great location in mind. Deciding whether to use your own home or someone else's should be all about location. What kind of market are you in? "If you're in the middle of nowhere, you have to make your inn its own destination," says Karen. "You can have the best B and B, but if it's not near a destination, no one will come," adds Jenn Wheaton, marketing and program coordinator at the California Association of Boutique and Breakfast Inns.
If you're sticking to your own home, odds are you'll need to do some remodeling, depending on how many people you want to be able to host. Most American travelers are not fans of a shared bathroom, for example. Is each of your home's bedrooms en suite? Can you afford to add new bathrooms? Living space is also important. Do you want the guest common areas to be separate from your own common areas? Do you have a parking lot that can accommodate all overnight guests?
Just thinking about remodeling their current home automatically steers some people toward purchasing an existing bed-and-breakfast to update. This tends to be fairly common — bed-and-breakfasts are often bought out by other aspiring owners, since it's easier than starting from scratch, says Donna Taylor of the Vermont Gazebo Inn. Of course, there's plenty to consider when purchasing a property too. Location will always top the list, but also look at overall size, the kitchen, the bathroom situation and what can be updated and maintained within your budget.
Know the local zoning and licensing requirements. Whether you go with a new or an existing property, zoning restrictions can make or break
your bed-and-breakfast plans. Research the property's city or county zoning laws before doing anything else. Is the zone residential only? Or is there a conditional-use permit? After clarifying the requirements, you can move on from there. "It can be time consuming and even expensive to meet the requirements," warns Rickie Hart from the Oregon Bed and Breakfast Guild.
Tim Wilson, director of BedandBreakfast.com's Diamond Collection program, suggests going to your local government office to determine the right process to open a bed-and-breakfast in your area. Do your research to figure out what permits, licenses, training, certification and inspections will be required. Everything from food handling and alcohol permits to health and safety inspections, to your insurance policy needs to be taken into account. Since every metro area has different requirements, it's best to go to the source.
Have money saved with worst-case scenarios in mind. While there's no magic formula to help you figure out how much you need to start a bed-and-breakfast, it's best to overestimate — according to Hart, reserve funds are necessary to weather the low occupancy rate that's common during a bed-and-breakfast's first three years.
The wear and tear costs add up over time too. The maintenance is constant, says Taylor. From parking lots to plumbing, everything needs to be taken care of. "It's not drudgery, but it could be," she says. Setting aside money for improvements is vital.
Be prepared to provide personal service. Personal service is what differentiates a bed-and-breakfast from a hotel or a homestay. "Running a bed-and-breakfast is much more about taking care of the guest," says Karen. It's a highly competitive part of the business.
Hart suggests that potential innkeepers budget for the basics to start out, and upgrade as funds and time allow. Cable TV, Wi-Fi, flexible check-in times and free breakfasts are musts. Keep the bedrooms simple but comfortable — pillow-top mattresses, high-thread-count sheets and extra seating areas will take things up a notch. "American travelers tend to not want too many froufrous around the room, just lots of comfort," says Hart.
Beside the bedrooms, the bathrooms tend to be visitors' biggest priority. "You want to meet the demand of the traveler, especially those that are used to a hotel," says Wilson. Hot tubs, rain showers, heated towel racks and fluffy bathrobes can all be found in today's bed-and-breakfasts.
Make the Internet your best friend. Marketing is key to a bed-and-breakfast's success. In the past, popularity depended on a B and B's being published in a guidebook. While the Internet has expedited the process, Hart still estimates that it takes most bed-and-breakfasts about three years to get to a stable occupancy rate.
"You can't just build it and they will come," says Wilson. "Most bed-and-breakfasts get 90 percent of their business from the Internet. It can be a lot of work to make sure you're visible." A good website with good photography could make or break your business. According to Wilson, 50 percent of travelers won't book a bed-and-breakfast unless it offers online booking.
Market locally — figure out who your competition is, both other bed-and-breakfasts and hotels. Join local visitor's associations and lodging associations to help your efforts, too.